Acerola is naturally rich in vitamin C and high in antioxidants.
In addition to its conventional use as an edible fruit, acerola is used in clean-label products.
Benefits of acerola
Vitamin C Levels
Acerola cherries are naturally rich in vitamin C, but natural ingredients are inherently difficult to regulate, and not all materials containing acerola cherries have standard vitamin C levels.
That said, Nichirei Foods' own research has been able to quantify the average amount of vitamin C in acerola. As a result, nutrition labels on products containing Nichirei's acerola-based ingredients can accurately indicate the vitamin C content.
Meticulous Management for Safe Products
All the acerola used in Nichirei's ingredients has been grown by contracted farmers. Nichirei staff regularly visit the farmers to provide guidance and support, and they—not the farmers—make decisions regarding the use of pesticides.
In addition, the Company has set up a system that enables us to trace back the fruit we receive to the farmers who grew it. This ensures that we can deliver safe products to our customers.
Water and Fat Solubility
Thanks to their water and fat solubility, the antioxidant properties of acerola-based ingredients can be used in both water-based products (such as fruit juice) and meat-based products with a high fat content.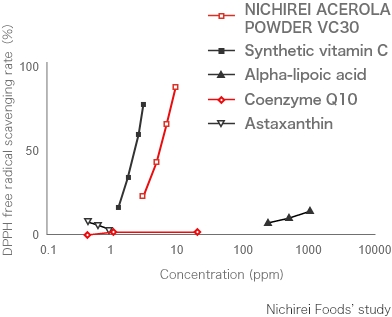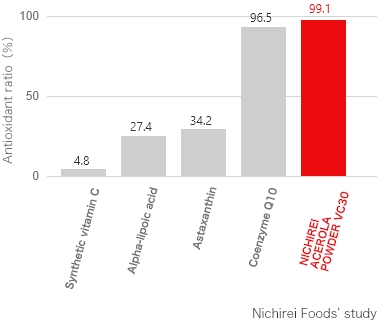 It can be used in clean-label products
Global Demand for Clean-label Products
The preference for clean-label food has spread globally, due to the growing awareness of food safety. Consumers are increasingly demanding that labels clearly and simply indicate product ingredients.
Antioxidants and Acerola-based Ingredients
Since acerola is rich in vitamin C associated with strong antioxidant effects, acerola-based ingredients are potential alternatives to the antioxidants used in food additives.
As food product labels clearly indicate when acerola-based ingredients—rather than antioxidant additives—are used, consumers feel secure in the knowledge that a natural product has been used.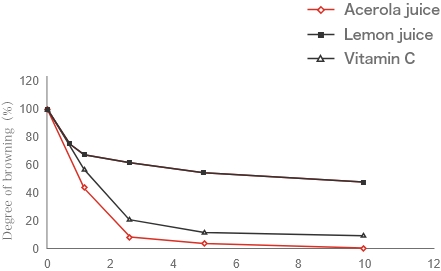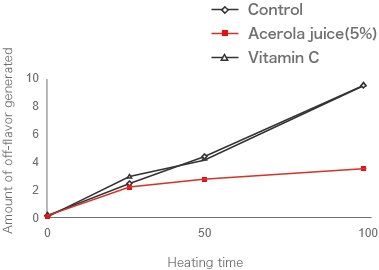 Use of Acerola-based Ingredients
To extend shelf-life,
prevent bacteria
growth in: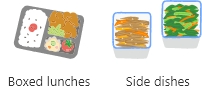 For Coloring:

As an improving
agent in:
To prevent browning of:

To preserve the color of: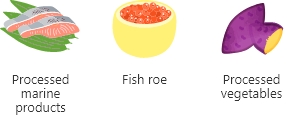 It is rich in vitamin C
The Popular Superfood Acerola
Acerola is a highly nutritious superfood.
In a survey* of 400 men and women aged 20 through 59, acerola was the second-best recognized superfood after chia seeds (figure 1).
Further, in a survey regarding the intake of vitamin C by means of acerola consumption, more than half the respondents indicated that this was their intent (figure 2).
This shows that people, regardless of age, broadly support and approve the use of acerola-based ingredients.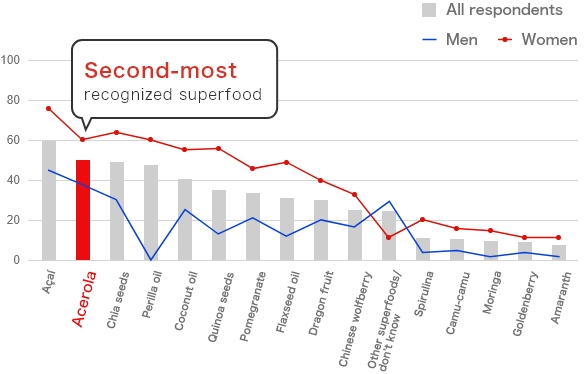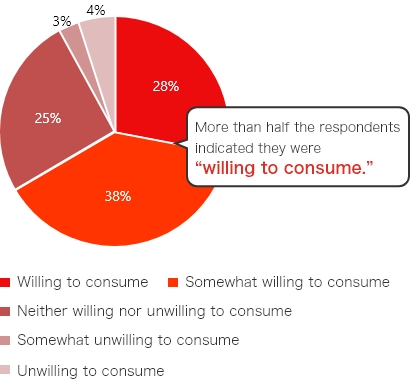 Products that, in addition to being delicious, contain value-adding vitamin C
Despite changing food trends, superfoods and other highly nutritious foods are attracting attention, and are expected to do so increasingly in the future.
Included among the superfoods is acerola, rich in vitamin C, a nutrient that the beauty- and health-conscious have valued for a long time.
In a survey* of 400 men and women aged 20 through 59, vitamin C received a great deal of attention, ranking top in the category of "ingredients and nutrients that are appealing when used in food products" (figure 3).Vitamin C levels in Nichirei's acerola-based ingredients are quantified and regulated, allowing their vitamin content to be indicated by phrases such as, "one cup contains a day's worth of vitamin C." More than merely being delicious, acerola-containing products provide consumers with added value.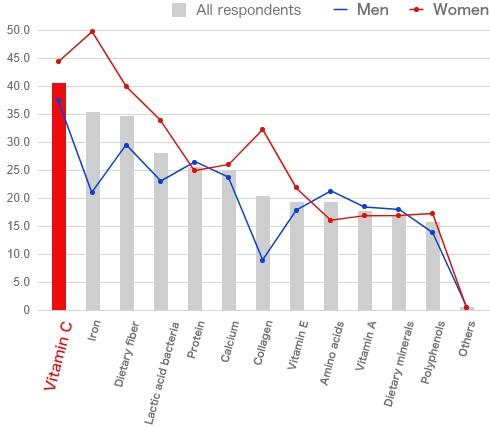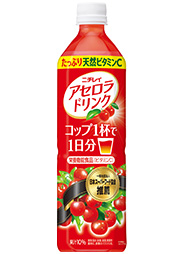 Items Containing Acerola-based Ingredients
Juice

Candy

Ice cream

Gelatin desserts

Alcoholic beverages

Supplements

Commercial Products
Here, you can find information about our product lineup, including product specs and special product features.
Product list
Contact
Please feel free to contact us to request materials, product samples, and information concerning our products.
Form for corporate inquiries